From management to orchestration
The 19th Edition of the MPLS + SDN + NFV World Congress, to be held from 21st to 24th of March 2017 in Paris, will reflect the major trend in the networking industry: how to evolve from management to orchestration.

The event will once again gather major actors of service providers and enterprises networks evolution.

A strong presence of service providers (45% of the +1500 participants) as well as a growing internationalization (more than 65 countries represented) will confirm the Paris World Congress as the first worldwide event in the MPLS, SDN and NFV area.

The Agenda: Orchestration, SD-WAN, SR, EVPN, Service assurance, AI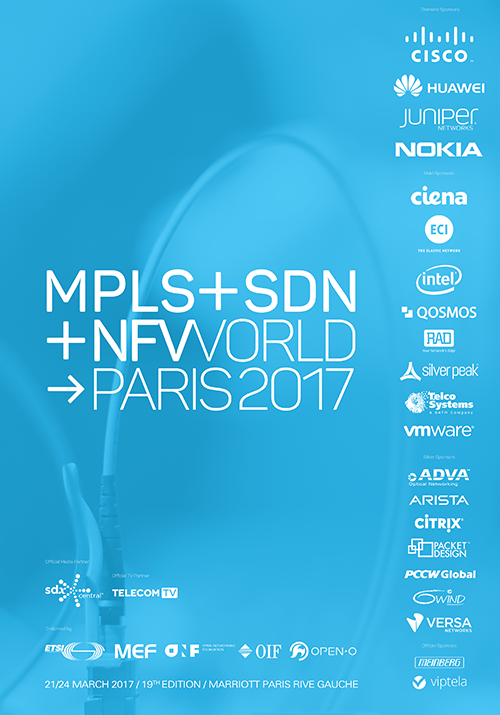 Mano, SDN controlers, ECOMP: orchestration is at the center of the service providers platforms evolution. The 2017 agenda will reflect this major trend. The main sessions will involve standardization organisms (ETSI, OPEN O, Linux Foundation, MEF), service providers and renowned experts in the vendor communiity.

The first day general panel will address the SD-WAN phenomenon and its impact on current MPLS services through testimonies from enterprises and service providers.

Next March, we will be following the latest Segment Routing developments and deployments.
This session will involve major service providers who have recently decided to jump on the SR wagon. Bell Canada, Comcast and Microsoft will describe their deployment scenario.

New important sessions will describe how AI is used in strategic networking areas (cyber security, analytics) and service experience assurance issues.

Other sessions will cover EVPN, SDN WAN, NFVI, Openstack, Containers, MEC & 5G and IPv6.

The full conference agenda is available online and in PDF

The Exhibition: Sold out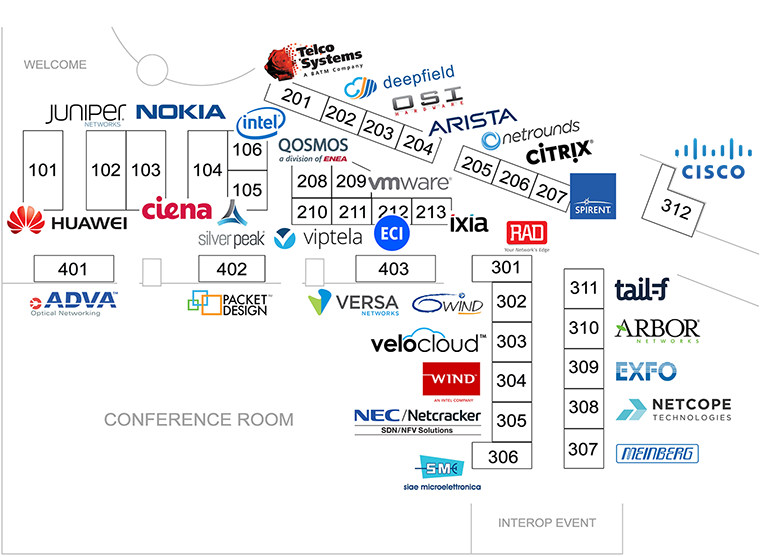 SDx Central Feed
The Multi-vendor Interoperability Test

The European Advanced Networking Test Center and Upperside Conferences invite interested vendors to our public multi-vendor interoperability test and showcase at the MPLS + SDN + NFV World Congress 2017.

Core topics for the upcoming edition are:

Segment Routing, BGP-LS and new TEAS (Traffic Engineering Architecture and Signaling) developments
MPLS Ethernet VPNs (EVPNs) and VXLAN
SDN in the WAN: PCE (including newer extensions) and NETCONF with Yang models for VPN services and for LDP
Flexible Ethernet and other optical transport concepts integrating with packet networks
Clock synchronization advances for LTE and 5G backhaul
Participating Companies

Arista Networks
Aviat Networks
Calnex
Cisco
ECI
Ericsson
Huawei
Ixia
Juniper Networks
Nokia
Meinberg
Microsemi
RAD
SIAE Microelletronica
Spirent Communications



Attending the Congress means:
You can meet with Carriers coming from more than 65 countries, +150 Expert speakers, +40 Exhibitors
Engaging with Industry Expert and Innovators from around the World in the SDN and NFV technology, applications and developments
Networking with strategy Leaders from the whole spectrum such as Carriers, Operators, Cloud Service, Content Providers and Large Enterprise
SDN, NFV Product Strategy Leaders from the major Solutions Vendors - +50 sponsors and exhibitors