NFV & SDN Summit 2014: The New Architecture
The second edition of the SDN Summit attracted more than 400 participants.

Together with MPLS World, the total audience reached 1350 people. Upperside targets +1500 participants for the 2014 edition.
Carriers Coming from 65 Countries



The profile of the SDN Summit delegates demonstrates a growing internationalization and a very strong presence of service providers. Representatives from the EU were 45 %, followed by North America (18%), Russia (11%) and South America (9%). With carriers coming from more than 65 countries, the SDN Summit and the MPLS World Congress can claim to be the first international event in this realm.
NFV & SDN Summit Agenda: Focus on Network Function Virtualization and Cloud Management
The 2014 program will pay particular attention to network function virtualization, cloud management platforms, open source software and overlays.

The call for proposals is open until June 30.

The scientific committee will review the proposals.

Upperside team would like to thank the committee members for their invaluable help.


Colocation with MPLS & Ethernet World Congress
As was the case in 2013, MPLS World and NFV & SDN Summit will have a common agenda during the first day of the event, and will end with a debate addressing the most important technical issues impacting service providers network architectures.
The Interop Platform
The European Advanced Networking Test Center ( EANTC) in collaboration with Upperside Conferences will invite industrials to a multi-vendor MPLS & Ethernet interoperability test in January 2014, that will be demonstrated during the MPLS and Ethernet World Congress. SDN Interoperability Test Platform During the MPLS & Ethernet World Congress, the EANTC, in collaboration with Upperside Conferences, will organize the first ever public European multi-vendor SDN interop event, and the first one worldwide focusing on service provider wide area requirements. The tests will focus on latest industry challenges:
Software Defined Networking (SDN)
Clock Synchronization
Resilient Multicast VPN Services
IPv6 Migration Scenarios
Carrier Ethernet 2.0
The tests were performed and verified in detail at a closed doors hot staging at EANTC lab in Berlin.

The successful results of the tests were documented in a white paper released by EANTC during the congress.

To get more info: http://www.eantc.de/showcases/mplsewc2013/intro.html


The Exhibition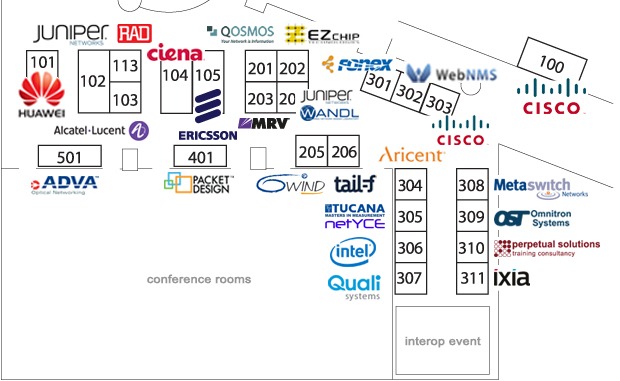 # 100 Cisco # 103 Alcatel-Lucent # 104 Ciena # 105 Ericsson # 201 Qosmos # 204 Wandl # 301 Fonex # 401 Packet Design # 501 Adva Optical Networking



# 101 # 102 # 113 # 203 # 305 and # 311 reserved