A lot of contributions will address this year the automation concept. Experts will demonstrate that although progress is being made there is still a lot of basic misunderstandings about the process of getting there. 

Next April we will be following the latest developments and deployments in the CORD/ONAP, Segment Routing and IPv6 areas through testimonies from Google, Telefonica, AT&T, DT, Turk Telecom, Alibaba, Thomson Reuters, Softbank, ERNW, Microsoft and Reliance JIO.
5G and Network Slicing
A large session will be dedicated to the 5G impact. Experts will discuss new requirements like Control and User Plane Separation, virtualization, low latency apps, Massive IOT, Cloud RAN, etc.

In particular, they will underline the need to provide network slicing in mobile transport networks, specifically for IP/MPLS networks.

Other sessions will cover EVPN, FlexEthernet, Hybrid Networks, Blockchain and Containers.

Don't miss testimonies from Orange, Colt, Telus, Rostelecom, Vodafone and Telia.
SDN/NFV: hype or real? - the first day general debate
Some think SDN/NFV is "emperor's new clothes" from day one. They underline that there are a lot of talks and lot of trials but few real deployments on mass scale.

The debate, chaired by Roy Chua (co-Founder, SDxCentral) will gather service providers. They will bring answers to this controversial question.


The Exhibition: Sold Out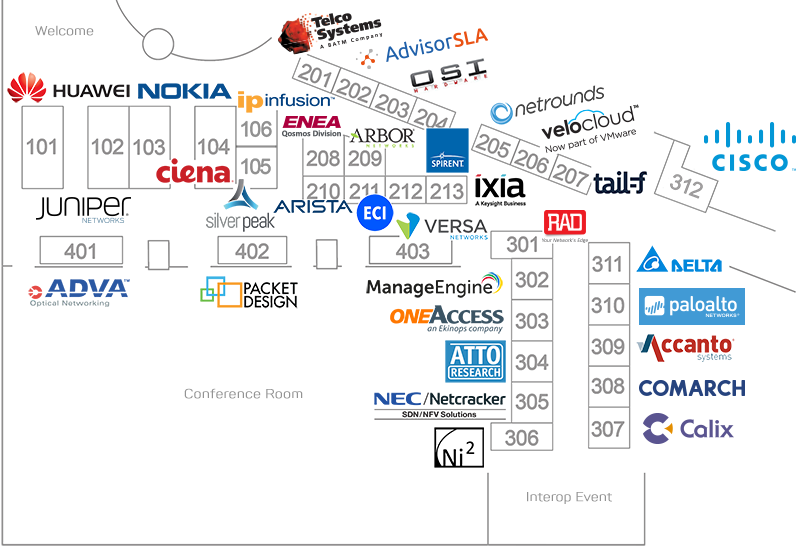 The Multi-vendor Interoperability Test

The European Advanced Networking Test Center and Upperside Conferences invite all interested vendors to join our upcoming public multi-vendor interoperability test and showcase at the MPLS + SDN + NFV World Congress 2018.

The test case areas to be cover will be:
Ethernet VPNs with focus on end-to-end services and IRB (Integrated routing and bridging)
Multicast and segment routing, IPv6 segment routing, segment routing fault management and
resiliency
Advances in Microwave: MPLS-based services, transport resiliency and bandwidth notification
Path Computation Element protocol with focus on Multi-domain controller(s) and paths reoptimizations
NETCONF/YANG with standardized models
Integration of data center- or uCPE-based NFV services, focusing on DC-to-edge service flows
Clock synchronization for LTE and 5G backhaul
2018 Participating Companies

Adva Optical Networking
Arista Networks
BISDN
Calnex Solutions
Cisco
Delta Electronics
ECI
Ericsson
Huawei
IP Infusion
Ixia
Juniper Networks
Nokia
Meinberg
Metaswitch
Microsemi
NEC/Netcracker
Oscilloquartz
Spirent Communications
UTStarcom
ZTE Corporation




Download the 2017 showcase white paper here

SDx Central Feed
AI Net 2018: Towards Self Driven Networks

The
AI Net
conference, co-located with the Congress, demonstrates that the rise of two recent paradigms: Software-Defined Networking (SDN) and Network Analytics (NA), will facilitate the adoption of
Machine Learning
and
AI
techniques in the context of network operation and control.
The event gathers a set of renowned experts coming from the research side (Inria, Tokyo City University, Cataluna University), from operators (
BT, Orange, Expedia
) industrials (
Juniper Networks, Huawei, Cisco, Nokia, Aria Networks, Adva Optical, Packet Design
) and software companies (
HPe, Brocade, CA
).
What are the requirements and expectations for
AI Networking
? Learn how to evolve towards
Self Driven Networks
.
Confirming internationalization
The
20th Edition
of the MPLS + SDN + NFV World Congress, to be held
10/13 April 2018 in Paris
, will once again gather major actors of service providers and enterprises networks evolution.
A strong presence of service providers (
45% of the +1500 participants
) as well as a growing internationalization (65 countries represented) will confirm the Paris World Congress as the first worldwide event in the MPLS SDN & NFV area.
Participant Profile
With representatives from the EU (55%), followed by North America (14%), Middle East (13%), Russia/Eastern Europe (9%) and Asia (5%), the MPLS + SDN + NFV World Congress can claim to be the First International Event in this realm.

The Scientific Committee
The organizers of
MPLS + SDN
+
NFV
World Congress have gone out of their way to prevent the Conference from becoming a pretext for simply promoting branded products and services.
With this in mind, a scientific committee will select the most appropriate and interesting proposals submitted from the call for papers.

Upperside Conferences
would like to once again thank the members of the committee for their precious collaboration.
Dr. Yakov Rekhter
Loa Andersson, MPLS IETF WG Chairman, Huawei
Luyuan Fang, Expedia
Kireeti Kompella, Juniper Networks
Clarence Filsfils, Cisco Fellow
Heikki Jekunen, Qentinel
Andrew G. Malis, IETF PWE3 WG Chairman, Huawei
Dr. Xipeng Xiao, Huawei
George Swallow
Jean-Marc Uzé, Juniper Networks
David Allan, Ericsson
Matthew Bocci, Nokia
André Danthine, University of Liège
Peter Willis, BT
Kohei Shiomoto, NTT
Roland Thienpont, Nokia
Hector Avalos, Versa Networks
Jeff Tantsura, IETF Routing WG Chairman
Thomas Nadeau, Brocade
Mark Townsley, Cisco Fellow
Rajiv Papneja, Huawei
Bala Thekkedath, Hewlett Packard Enterprise
Vishwas Manral, Nano Sec Co
David Moses, Telco Systems
Eric Vyncke, Cisco
Mazen Khaddam, Cox Communications
David Sinicrope, BBF IP/MPLS & Core WG Chair
Thomas Morin, Orange
Diego Lopez, Telefonica
Stéphane Litkowski, Orange
Bruce Davie, Vmware
Azhar Sayeed, Red Hat
Parantap Lahiri, Ebay
Wim Henderickx, Nokia
Rami Yaron, Co-chair, Global Marketing Committee, MEF
Sam Aldrin, Google
Eric Chen, Cisco
Shahryar Kahn, Ericsson
Carsten Rossenhoevel, EANTC
Martin Vigoureux, IETF Routing Area Director, Nokia
Amir Zmora, CEO SwitchRTC
Arthi Ayyangar, Arista