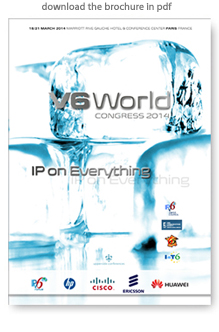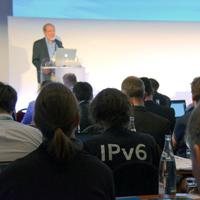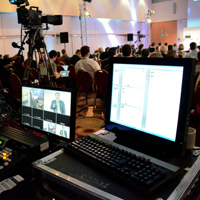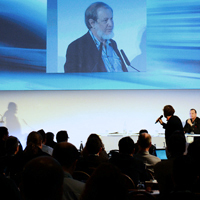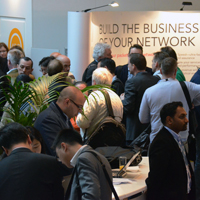 V6 World Congress 2014: IP on Everything
The Fourth Edition of V6 World will take place in Paris from 18 to 21 March 2014.

The V6 World Congress will once again bring together ISPs, Enterprises, equipment vendors, and industry leaders to share their experiences, skills, and knowledge of deploying IPv6 worldwide.

The 2014 agenda: Large Scale IPv6 Deployments, Content Providers Strategies, Internet of Things
The 2014 edition will place particular emphasis on large scale deployments and measurement with testimonies from cable operators (Time Warner, Comcast) and content providers (Google, Facebook, Linkedin). Other sessions will cover SDN, transition strategies, training issues and enterprises deployments.

A large session and a panel will be dedicated to Internet of Things. Indeed, the IoT area is ramping up in terms of hype. Even if the Internet community doesn't yet believe that the IoT is going to matter or the IoT world doesn't believe they want to connect to Internet, both share IPv6. While the IPv6 Internet deployment ramps up, the IoT world starts to move to IPv6.

More than 40 key Speakers
Dr. Robert Kahn | President of CNRI
John Curran | President | ARIN
Mark Townsley | CISCO
Yanick Pouffary | HP
David Miles | GOOGLE
Johan Remy | ADISTA
Franck Martin | LINKEDIN
Paul Saab | FACEBOOK
Jan Zorz | GO6
Phil Roberts | ISOC
Eric Vyncke | IPV6 COUNCIL OF BELGIUM
Sandoche Balakrichenan | AFNIC
Cathy Zhou | HUAWEI TECHNOLOGIES
Hiroshi Esaki | UNIVERSITY OF TOKYO
Bill Ver Steeg | CISCO
Carl Wuyts | TECHNICOLOR
Roland Thienpont | ALCATEL-LUCENT
Laurent Toutain | TELECOM BRETAGNE
Nick Heatley | EE
Timothy Winters | UNH
Tom Coffeen | INFOBLOX
Jaume Rius I Riu | ERICSSON
Chris Martin | CISCO
Silvia Hagen | SUNNY CONNECTION AG
Prof. Peter Kirstein | UNIV.COL.LONDON
Latif Ladid | President | IPV6 FORUM
Tina Tsou | HUAWEI
Mike McBride | ERICSSON
John Brzozowski | COMCAST
Axel Clauberg | DEUTSCHE TELEKOM AG
Christian Jacquenet | ORANGE
Ayumu Yasuda | NTT
Alain Fiocco | CISCO
Dave May | ROGERS COMMUNICATIONS
Matthew Wilder | TELUS
Suresh Krishnan | ERICSSON
Khalid Jawaid | CISCO
Jorge Pereira | EUROPEAN COMMISSION
Nathalie Trenaman | RIPE
Ciprian Popoviciu | NEPHOS6
Samita Chakrabarti | ERICSSON
Gunter van de Velde | CISCO
Sheng Jiang | HUAWEI TECHNOLOGIES
Sebastien Ziegler | IoT6 project
Patrick Guillemin | ETSI M2M/oneM2M
Antonio Skarmeta | Gen6 Project
Emmanuel Thierry | TELECOM BRETAGNE
Steve Simlo | CISCO

V6 World Delegates: 50% Service Providers, 10% Enterprises
Figures demonstrate that 50% of the delegates were service providers, 25% vendors, 10% enterprises, 5% government representatives and 10% researchers.
Moreover, 47% of the delegates came from the European Union countries, 12% from the Middle East, 11% from Russia and non EU countries, 16% from North America, 10% from Asia, and 4% from South America.



An IPv6 Connection for the Delegates
Delegates at V6 World and the collocated MPLS & SDN World will be given the opportunity to experience demonstrations of IPv6 applications, delivered through the Marriott Paris Rive Gauche.
The Interop Platform
The European Advanced Networking Test Center ( EANTC) in collaboration with Upperside Conferences invites vendors to a multi-vendor MPLS & SDN interoperability test in February 2014.

The objective of the tests is to verify protocol interoperability for service provider oriented toolkits focused on functionality, flexibility and adaptability of networks. Once we verify protocol interoperability we will construct an orchestrated data center to data center network.

Cloud delivery and orchestration will be the major focus of the interop along the topics of:

• Software Defined Networking (SDN): OpenFlow and PCE
• IPv6 Migration Scenarios
• MPLS and Ethernet Transport
• Data Center Interconnection

During the congress, EANTC will present results in regular guided tours to conference attendees.

The showcase will be open for the full four days of the conferences (Tuesday to Friday).

To get more info: http://www.eantc.de/showcases/mplsewc2013/intro.html


The Exhibition (Sold out)