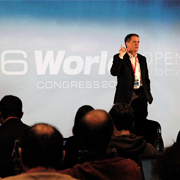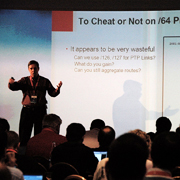 Co-located with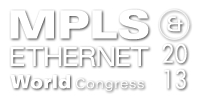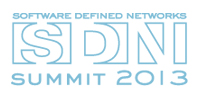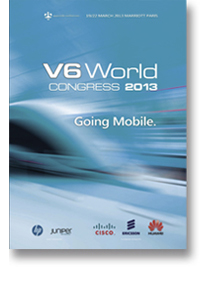 IPV6 World Congress 2013: Going Mobile


See you next year! 18/21 March 2014

The Third Edition of V6 World will take place in Paris from 19 to 22 March, 2013.

The objective set for the 2013 Edition is to confirm the 2012 attendance levels, which grew by a remarkable 40% from its first edition in 2011.

The V6 World Congress will once again bring together ISPs, Enterprises, equipment vendors, and industry leaders to share their experience, skills, and knowledge of deploying IPv6 worldwide.

V6 World Delegates: 55% Service Providers
About 500 delegates attended the 2012 Congress, up from 350 delegates in 2011.

Figures demonstrate that 55% of the delegates were service providers, 25% vendors, 5% enterprises, 5% government representatives and 10% researchers.

Moreover, 47% of the delegates came from the European Union countries, 12% from the Middle East, 11% from Russia and non EU countries, 16% from North America, 10% from Asia, and 4% from South America.



The 2013 Agenda: IPv6 « by default » on Mobile Networks
The 2013 Congress will place particular emphasis on the adoption of IPv6 on mobile networks, seeking presentations and individuals to serve on panels to discuss both the successes and challenges in enabling production IPv6 "by default" on mobile devices, in mobile applications, and on mobile networks.

During the first day of the conference, Verizon Wireless, T-Mobile USA, Cosmote Telecom and other providers will discuss their IPv6 mobile real deployments and deliberate their technical choices. Other sessions will address mobile implementation issues and IPv6 in handsets.

Days two and three will include sessions on BYOD, Home networking, "IPv6 Only" approaches, Deployments and Security. Two important panels will cover mobile implementation issues and IPv6 measurement policies.

The proposals have been analyzed and categorized according to their degree of pertinence by the members of the scientific committee.

An IPv6 Connection for the Delegates
Delegates at V6 World Congress and the MPLS & Ethernet World Congress will be given the opportunity to experience demonstrations of IPv6 applications, delivered through the Marriott Paris Rive Gauche Hotel and Conference center's network.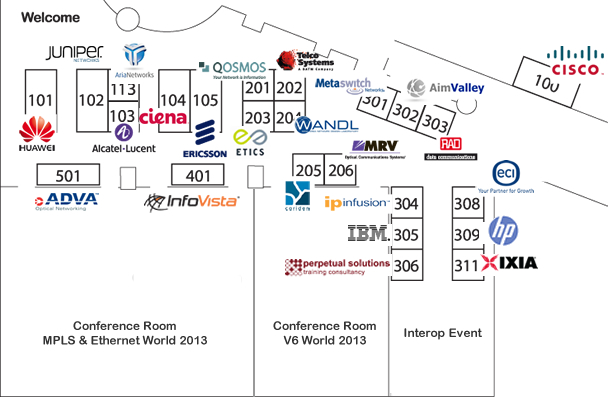 # 100 Cisco # 101 Huawei # 102 Juniper Networks # 103 Alcatel-Lucent # 104 Ciena # 105 Ericsson # 113 Aria Networks # 201 Qosmos # 202 Telco Systems # 203 Etics # 204 Wandl # 205 Cariden # 206 MRV # 301 Metaswitch Networks # 302 Aimvalley 303 RAD Data Communications # 304 IP Infusion # 305 IBM # 306 Perpetual Solutions # 308 ECI Telecom # 309 HP # 311 Ixia # 401 Infovista # 501 Adva Optical Networking


SDN Interoperability Test Platform
During the MPLS & Ethernet World Congress, the EANTC, in collaboration with Upperside Conferences, will organize the first ever public European multi-vendor SDN interop event, and the first one worldwide focusing on service provider wide area requirements.
The tests will focus on latest industry challenges:
Software Defined Networking (SDN)
Clock Synchronization
Resilient Multicast VPN Services
IPv6 Migration Scenarios
Carrier Ethernet 2.0
The tests were performed and verified in detail at a closed doors hot staging at EANTC lab in Berlin.

The successful results of the tests were documented in a white paper released by EANTC during the congress.

To get more info: http://www.eantc.de/showcases/mplsewc2013/intro.html