The Interoperability Challenge
The 3rd SD-WAN Summit will be held 26/28 September 2018 in Paris CDG.

The Summit will confirm its position as the leading event for stakeholders in this new technology.
Interoperability, Security, Scalability
It will be interesting to see next September how much SD-WAN is reshaping the overall telecom industry and wether or not it is impacting the globalization of business services and service providers' footprints.

Indeed, before reaching this level, the SD-WAN offer must acquire a wider scope of features in terms of security and scalability. Above all, the different offers have to become interoperable in order to definitively win over operators and very large enterprises.

The 3rd SD-WAN Summit will be an occasion to see just to what extend the different SD-WAN stakeholders have become aware of these imperatives.



"



The 2017 SD-WAN Summit demonstrated that all stakeholders in SD-WAN, from vendors to managed service providers are making significant progress in offering feature-rich products and services that enterprise IT can take advantage of.

"


— Mike Fratto, Research Director, GlobalData
Is cross-vendor interoperability something we should expect?
How can the device management scale be quickly expanded without affecting services on the live network?
Which architectures choice for implementing SD-WAN security?
Can Internet-first solve more problems than it causes or is Hybrid the answer for the foreseeable future?
Is MPLS Segment Routing a possible avenue for a pure private software defined WAN?
Renowned experts in IP architectures will provide responses to the main important technical challenges in this area.


Debates: Self Service Portal, Interoperability, SD-WAN Architectures
Is the management of the service really being handed over to the customer or is there a clear line emerging in the management demarcation?
What should standard bodies be working on for interoperability?
What are the pros and cons of the architectures vendors and service providers are offering?
Don't miss the SD-WAN Summit panels and understand how SD-WAN is going to change the enterprise WAN.
Service Providers and Enterprises Presence
As each year, the programme will benefit from many operators and enterprises testimonies. They will address their development focal points and the future evolution of their services.

Hear reports from BT, Telia, Verizon, KDDI, Colt, Telus, Exponential-e, Carrefour, Interroll.



"

The conference demonstrated that SD-WAN is going to change the enterprise WAN not because of MPLS cost reduction but rather because it powers enterprise digital transformation. SD-WAN allows for enterprise agility and seamless adoption of cloud services through a software define network approach and cloud based presence.

"


—Amir Zmora, The NewDialtone
The 2018 Exhibition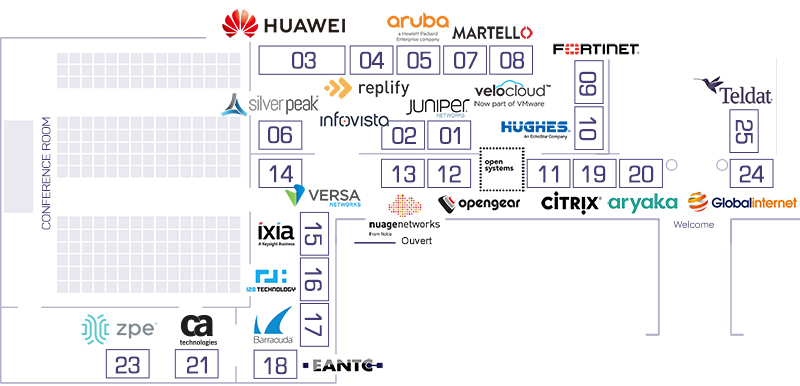 The Second Edition: A Worldwide Success
With more than 400 participants (+ 80%) from 31 countries (+ 60%), the second SD-WAN Summit has earned its place as the leading event for stakeholders in this new technology.

During the last year edition, statements by the incumbent operators (Orange, BT, Telia, Telefonica Tata, etc.) and the new players (Hub One, Jaguar Networks) have corroborated that SD-WAN is not intended to replace MPLS today. Though they use their Internet network to offer WAN services to businesses, they nonetheless keep the MPLS infrastructure to support mission critical applications. The service offered is thus identical: a hybrid network combining SD-WAN and MPLS.

Participants profile: 50% operators & enterprises
Figures below demonstrate that operators/ISPs/integrators counted for 32% of delegates, while enterprises represented 18%.

"

On one hand, the Summit was confirmation of the manufacturers' maturing the technology and focusing on use cases. On the other hand, and probably most remarkably, there was a clear message from the service providers aligning their strategies to transform their traditional IP/MPLS VPN services into SD-WAN concepts and technologies."

"


— Jean-Marc Uzé, Consultant
SDx Central Feed