LPWAN16
, the 1st international conference on IoT and M2M wireless LPWA (Low Power Wide Area) technologies which took place on May 18-20 in Paris, made good on its promises. "Superb event. A lot of rich exchanges, very interesting participants, even for us who know the subject very well", stated Philippe Cola, Network Architect at Bouygues Telecom. LPWAN16 was hosted by Upperside Conferences and L'Embarqué, a leading high-level news provider in embedded systems.
After a in-depth introduction by Aapo Markkanen, Principal Analyst at
Machina Research
, who explained how the LPWANs are driving the IoT market, the audience had then the chance to benefit from the feedback from the field experience of ATIM and Adeunis RF. Both companies have technologies and expertise already deployed in LPWA networks based on either
LoRa
or
Sigfox
.
The Conference went on with some very complete up-to-date presentations on the 3GPP standardization process regarding
Cellular IoT
with a description of the three standards due to be published in June (EC-GSM-IoT, LTE-M/eMTC/LTE-Cat.M1, NB-IoT). The audience also had the opportunity to have a fresh look on the Weightless-P specification published in last December. This specification is based on a technology developed by the French-Taiwanese company
M2COMM
and is already deployed in LAN environments. The Weighless-P specification is now targeting LPWAN applications!
During the Conference, service providers like
Orange
,
Objenious IoT subsidiary of Bouygues Telecom
, and
Qowiso
were also eager to reveal some details on the progress of their respective LPWA networks. A very interesting description of critical KPI (Key Performance Indicators) for LPWA networks was also given by Kerlink, a provider of LPWAN base stations and management software, based on a real experience feedback from current deployments (network design, radio environment analysis, scalability to installation, operation and performance management…).
Last but not least, the
LPWAN16 Conference
gave a special focus on how LPWA networks should articulate with the Internet through presentations from the
6TiSCH project and IETF
(Internet Engineering Task Force) representatives. The next to be published IETF specifications 6TiSCH (IPv6 over the Timeslotted Channel Hopping Mode of IEEE 802.15.4e) is trying to mix the IPv6 protocol, a meshed radio network infrastructure and industrial-grade performances.
Security was also a big topic discussed during the LPWAN16 Conference with highly regarded presentations from Gemalto and the French startups Trusted Objects.
Finally, a roundtable gathering Smart Objects startups (Wi6Labs, Sensing Labs, Cobject)) showcased the emerging
LPWAN ecosystem
.
Upperside Conferences and L'Embarqué will organize the
Second Edition of LPWAN in May 2017
(exact dates still to be confirmed).
The scientific committee
| | | | | | | | | |
| --- | --- | --- | --- | --- | --- | --- | --- | --- |
| | | | | | | | | |
| Régis Lauret | | Cyrille Le Floch | | Philippe Cola | | William Webb | | Jérôme de Murcia |
| | | | | | | | | |
| | | | | | | | | |
| Aapo Markkanen, | | Philippe Guillemette | | Nicolas Jordan | | Teppo Hemiä | | |

Regis Lauret,
Marketing Director, Eolane
Cyrille Le Floch,
CEO, Qowisio
Philippe Cola,
Senior E2E Network Architect and Services, Bouygues Telecom
Professor William Webb
, President, Weightless SIG
Jérôme de Murcia,
LoRa IoT Network Infrastructure Skill Center Leader, Orange Labs
Aapo Markkanen,
Principal Analyst, Machina Research
Philippe Guillemette,
Technical Director, Sierra Wireless
Nicolas Jordan,
Actility
Teppo Hemiä,
CEO, Wirepas


Brochure in PDF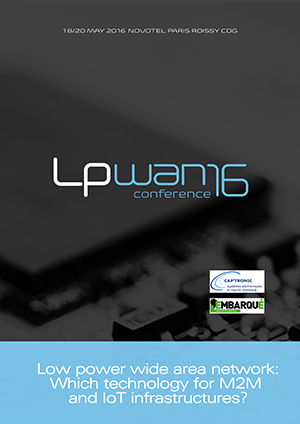 Event Partners