The 14th edition of the MPLS & Ethernet World Congress will take place in Paris from the 7th to 10th of February, 2012.

The objectives set by Upperside for the 2012 edition is to confirm the progression established in 2011.

MPLS World and the Carrier Ethernet Workshop will once again allow us to benefit from the enlightenment of the precise stakes involved in the convergence of the MPLS & Ethernet protocols, particularly their respective roles in the access networks.

150 Services Providers from 70 Countries

More than 1300 delegates attended the 13th edition of the MPLS & Ethernet World Congress. 150 service providers from 70 countries were present and confirmed the event to be the number one event worldwide in this area.

Geographical repartition of delegates demonstrate the internationalization of MPLS & Ethernet World. In particular this year, Middle East representantatives reached 15% and Russian representantatives 10% of the overall delegates.









2012 Exhibitors



Adva Optical Networking # 501
Alcatel-Lucent # 103
Aricent # 202
Broadband Forum # 210
Cariden # 219
Centec Networks # 206
Ciena # 104
Cisco # 100
Ericsson # 105
Hitachi # 208
HP # 503
Huawei # 101
IP Infusion # 216
Ipanema Technologies # 401
Juniper Networks # 102
Marben Products # 204
Metaswitch Networks # 201
MRV # 205
Opnet # 211
Perpetual Solutions # 218
RAD Data Communications # 203
Telco Systems # 217
VeEx # 301
Wandl # 212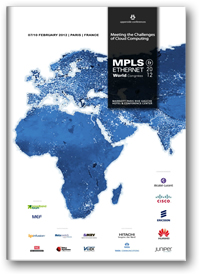 2012 Agenda: The Cloud Impact

The 2012 agenda will pay particular attention to Cloud computing services. Experts will consider the networking implications and requirements of the Cloud and how MPLS can be used in that context.

Other sessions will address end-to-end, mobile backhaul LTE and MPLS-TP issues.

The proposals have been analyzed and categorized according to their degree of pertinence by the members of the scientific committee.

The Conference Agenda is online.

Download the brochure in pdf
The conference documentation is available on line
The Carrier Ethernet Workshop



The sixth edition of the Carrier Ethernet Worshop will discuss technological and implementation detailed issues in parallel with the traditional MPLS Tutorial addressed by the Broadband Forum. The workshop will be addressed by the MEF ambassadors for the standardization process review. Other sessions will welcome vendors for business models and solutions descriptions and carriers for deployment reports.

The Interop Platform

The European Advanced Networking Test Center ( EANTC) in collaboration with Upperside Conferences will invite industrials to a multi-vendor MPLS & Ethernet interoperability test in January 2012, that will be demonstrated during the MPLS and Ethernet World Congress.

The tests will focus on IPv6 Migration scenarios and Mobile Backhaul strategies making use of ERPS, advancements in MPLS-TP fault detection, and specific 1588 PTP synchronization roles throughout the network.

The Exhibition



The exhibition space will once again ratify MPLS & Ethernet World as the only real scientific exhibition dedicated to this technology.

The exhibition will gain in scope with the addition of service providers wishing to demonstrate their services to enterprises.