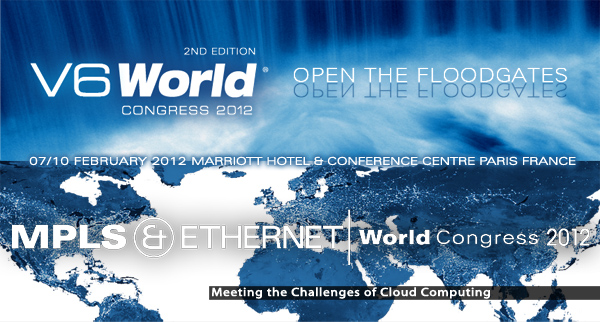 V6 World and MPLS & Ethernet World Congress 2012 will take place simultaneously from the 7th to the 10th of February 2012 at the Marriott Rive Gauche Hotel & Conference center in Paris.

The MPLS & Ethernet World will be held on level 0 and the V6 World on level -1 of the Conference Center. The events have a common exhibition area on level 0.

Attendees can register for a Double pass, which grants access to both or the one event pass. Please go the event registration pages for more details.

A 10% early bird registration is available until the 31st of December, 2011.
If you haven't already registered, NOW IS THE TIME!
V6 World Congress 2012: Open the Floodgates
The objectives set for the second edition is to confirm the 2011 success. Upperside Conferences expects more than 500 delegates to attend.

The V6 World agenda will privilege enterprises and content providers reports. A panel will gather representants from different sectors (industry, research, government, finance). Other sessions will detail IPv6 in the Cloud or security issues.

Organized by Upperside Conferences 54 rue du Faubourg Saint Antoine 75012 Paris - France