MPLS SDN World Congress 2015: Call for Proposals
The following list of topics is not exhaustive and authors may propose other subjects in keeping within the thematic framework.
The role of open source organisms
ONF
OpenDaylight
Openstack
Spring & RSVP
Migration scenarii
Data center virtualization
Standardisation
Wan & virtualization
Ethernet virtual networks
NFV environments
Data center interconnection
SDN & NFV
Standardization
MPLS interactions
IEEE DCB
MEF Dynamic Responsive Ethernet
OpenFlow impact
MPLS and SDN Use cases (BoD – Bandwidth on Demand, VM, DCN applications, SPIT)
Resiliency, Performance and High
Availability issues
Multi-topology

IPv6 deployments
P2mp
TE trees
Protection
Re-optimization
Inter-area
OAM
Protection
Shared mesh
Ingress/egress protection
Multi-failure
Multi-layer (SRLG)
PW endpoint (S-PE)
P2MP PW, etc.
Domain-wide global labels
I2RS
Service chaining
Security
I2RS in MBH
Applicability connection/network on-demand
Service topology
PCE
Statefull PCE
Hierarchical PCE
Inter-layer
Inter-domain
P2MP
Dynamic placement of multi-segment PW
NVO3
End-to-end MPLS
Unified MPLS
Requirements for a common packet transport architecture
MPLS TP features
Network designs
Scalability issues
Migration strategies
Control and management plane
MPLS and Network /Infrastructure Virtualization (Cloud Services)
Seamless VM mobility
Virtualized Network Architectures
Convergence and Resiliency in Data Center Networks
Scaling and management of Data Center networks
MPLS and Data Center Interconnect (inter-DC, Intra-DC)
Impact of IPv6 transition to Cloud Services
SP, Cloud Service Providers Case Studies
MPLS and next generation mobile packet networks:
MPLS in LTE
Seamless MPLS and mobility
Various options for backhaul
MPLS synchronization for LTE networks
Fixed mobile convergence and mobile broadband
Wi-Fi offload
Scaling MPLS and Pseudo wires
Lightweight MPLS and Pseudo wire based aggregation
GMPLS and Optical Networking:
Current standard issues
Lambda switching
Optical VPNs
Signalling at the edge between optical access devices/metro DWDM devices
Applicability of GMPLS in non-optical technology areas
PCE/PCC
100G and beyond
GMPLS control plane challenges
Planning and optimization
Service provider's deployments reports:
MPLS TP OAM Issues
VPLS Multicast Deployment
VPN deployments
Experience in MPLS Services scalability
Experience in managing MPLS networks
VPLS vs LAN Emulation: what makes the former more successful than the later
Experiences with FRR, Diff-Serv aware TE
Deployment of hierarchical LSPs
Operational challenges of running MPLS networks
Migrating legacy services to MPLS
Transition efforts case studies
Emulating ATM over MPLS
Deployment of Layer 2 VPNs
Deployment of MPLS Point-to-multipoint LSPs
VPN Multicast Deployment
Access and Core: Packet Transport Technologies
Lightweight MPLS to the CE
Role of MPLS pseudo-wires in the access
Role of MPLS in access broadband networks (MPLS to the DSLAM)
Packet transport in the aggregation infrastructure
Packet transport in core networks
Technical challenges in packet transport -- performance monitoring, provisioning, QoS, resilience
Technologies for overcoming the above challenges
MPLS in the enterprise:
Enterprise best-practices
Deployment experiences
Should Enterprise have more control over path their traffic take in Service Provider network?
Quality of Service and Resiliency:
QoS strategies for L2/L3 VPNs
Fault tolerance/graceful restart
MPLS guaranteed bandwidth
Fault isolation and resource partitioning in multi-service MPLS networks
Management and Planning for MPLS:
Application of policy management to MPLS
Provisioning/monitoring/trouble-shooting
LSP provisioning management
LSP verification tools/procedures
SLA verification/monitoring
Planning tools for designing, modelling, and simulating MPLS-based networks and services
Network management for MPLS-practices and tools
Billing in MPLS networks
Setting accurate SLAs
Verifying negotiated SLAs
SLAs for MPLS-based Layer2 VPNs
Performance Issues:
Scaling requirements for systems and protocols
Impact of current infrastructure or system limitations
Experience in Multicast MPLS deployment performance
Fast convergence of MPLS enabled networks
Inter-provider and inter-domain case studies:
Inter-domain and inter-provider 2547 VPNs
Inter-domain and inter-provider VPLS
Inter-domain and inter-provider pseudo
wires
Inter-domain and inter-provider L2 VPNs
Reports from interoperability testing:
Lessons learnt
Issues found
Guidance for MPLS development going forward - for standards, vendors, and providers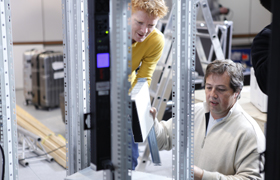 The Interop Platform
The European Advanced Networking Test Center ( EANTC) in collaboration with Upperside Conferences will invite industrials to a multi-vendor MPLS SDN & NFV interoperability test in January 2015, that will be demonstrated during the Congress.

In 2014, Cloud delivery and orchestration were the major focus of the interop along the topics of:
Software Defined Networking (SDN): OpenFlow and PCE
IPv6 Migration Scenarios
MPLS and Ethernet Transport
Data Center Interconnection
During the congress, EANTC will present results in regular guided tours to conference attendees. The showcase will be open for the full four days of the conferences (Tuesday to Friday).

To get more info, click-here