V6 World Scientific Committee
The organizers of V6 World Congress have gone out of their way to prevent the Conference from becoming a pretext for simply promoting branded products and services.

With this in mind, a scientific committee will select the most appropriate and interesting proposals submitted from the call for papers.

Upperside Conferences would once again like to thank the members of the committee for their precious collaboration.
Steve Deering
Mark Townsley, Cisco
Fred Baker, IETF OPS Chair, Cisco Fellow
Bob Hinden, Check Point Software Fellow
Erik Kline, Google
Donn Lee, Facebook
Martin J Levy, Cloudflare
Yanick Pouffary, IPv6 Forum Fellow, HP
Shin Miyakawa, NTT
Satoru Matsushima, Softbank
Alexandre Cassen, Free
Alain Durand, Juniper Networks
Latif Ladid, IPv6 Forum Chair
Fredrik Garneij, Ericsson
Bernard Tuy, Renater
John Jason Brzozowski, Comcast
Thomas Nadeau, Brocade
Christian Jacquenet, France Telecom
Eric Vyncke, Cisco, Belgian IPv6 Council
Irena Nikolova, Google
Jean Marc Uzé, Juniper Networks
Martin Gysi, Swisscom
Thierry Ernst, G6
David Miles, Google Fiber
Jordi Palet, Consulintel
Gunter Van de Velde, IETF OPSEC co-chair, Huawei
Silvia Hagen, Swiss IPv6 Council & Sunny Connection AG
Vishwas Manral, Ionos Networks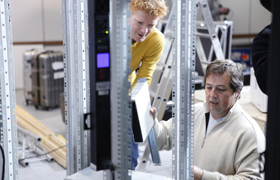 The Interop Platform
The European Advanced Networking Test Center ( EANTC) in collaboration with Upperside Conferences will invite industrials to a multi-vendor MPLS SDN & NFV interoperability test in January 2015, that will be demonstrated during the Congress.

In 2014, Cloud delivery and orchestration were the major focus of the interop along the topics of:
SDN: OpenFlow and PCE
IPv6 Migration Scenarios
MPLS and Ethernet Transport
Data Center Interconnection
During the congress, EANTC will present results in regular guided tours to conference attendees. The showcase will be open for the full four days of the conferences (Tuesday to Friday).

To get more info, click-here