Founded in 1994 by Rémi Scavenius and Michel Gosse, Upperside Conferences has over the years established its strong credibility in the professional world as a leading telecom conference organizer by forging an original and innovative image.
Today Upperside has earned a reputation of excellence in specific avant-garde themes. It was the first group to propose telecom conferences dedicated to MPLS, SIP, TVoDSL, WiMAX, Cloud Telco, Green Telco and VoLTE, just to name a few. And by doing so, Upperside Conferences has been on the frontlines of major developments of IP protocol.

ON THE BORDERLINE BETWEEN RESEARCH AND INDUSTRY

Upperside Conferences provides not only valuable up-to-the-minute information, but also insight on how a given technology is likely to pan out in the future. In this way, an Upperside event is often an interface between academic research and industry,
bringing together these sometimes antagonist worlds.

AN EMPHASIS OF QUALITY OVER QUANTITY

Upperside's objective will never be to produce the largest number of conferences possible. Upper Side organizes very few events compared to its competitors. This is because the focus is on the research aspect of innovate themes and on streamlining their integration within the conference framework. Such an approach necessitates a considerable amount of energy to persistently monitor technological developments worldwide.
THE CALIBER OF THE SPEAKERS

Aside from the pertinence of the subjects tackled, Upper Side strives to bring together the most prominent experts in their fields.

Putting together the best possible program means first taking the time to identify and recruit key speakers. Setting up a scientific committee is thus an extremely effective way to ensure a quality selection of themes and seek out competent speakers on subjects that will be addressed.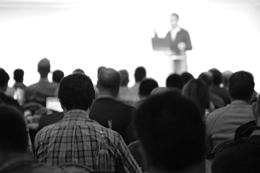 CONFERENCE AND EXHIBITION

Upperside Conferences was one of the first telecom conference organizers to adopt the strategy of associating a limited thematic exhibition with a technology-dominated conference. The success of events like TVODSL or MPLS World attests to the viability of this concept.


WELCOME AND SERVICES
Since its very first conference, Upperside has made it a point to welcome the delegates and speakers in the very best of conditions.
This includes methodically supervising the choice of the venue, the quality of restaurant service, the material in the handouts, the audiovisual presentations and of course providing complimentary WiFi Internet access.
Everything is prearranged so that your working day is spent in a climate of optimum comfort and maximum efficiency.

Our Event Managers, who actively participate in the preparation of the conference from Day One, are on call around the clock at the conference and exhibition. They stand ready to answer any specific requests and act accordingly.

In order to offer our international clientele a pleasant and comfortable stay in Paris, Upperside organizes all events only in highly reputable 4-star International Hotels with Integrated Conference and Congress centers. These internationally renowned 4-star groups (Marriott, Sofitel, Novotel) offer exemplary quality of service and impeccable hospitality. The Business Centre, Concierge Services, proximity and ease of access to cultural, historical, entertainment and gastronomic point of interest ensures that our clients' stay in Paris is a memorable one.

We negotiate room tariffs with the hotels in order to obtain the most advantageous price for our delegates. The guestrooms feature contemporary decor and furnishings and come equipped with satellite TV, high-speed Internet connections and minibar.